Chester County Transportation Panel
CCCBI Government Affairs Committee Meeting
Chester County Chamber of Business and Industry holds panel focused on transportation in the Commonwealth and the Chester County region with Secretary of Transportation Yassmin Gramian and Industry Experts
The panel was comprised of experts in the transportation field, including; the Secretary of Transportation for the Commonwealth of Pennsylvania, Yassmin Gramian, PE; Regional Chief Engineer for McMahon Associates, Gary Graham, PE; SEPTA Legislative Affairs Director, Pam McCormick; and Executive Director of Transportation Management Association of Chester County (TMACC), Tim Phelps. Juni Alam of Herbert, Rowland & Grubic, Inc. (HRG) moderated the morning's topics.
Topics of discussion ranged from current projects being completed, projects continuing to work through processes of funding and policy, the bipartisan Infrastructure Investment and Jobs Act, practical issues facing technology and advancement in implementation. Most notably, electric vehicle and infrastructure grid demands were discussed as they attempt to meet demands.
SEPTA also provided updates regarding investments in safety and continued support for employers and employees commuting, as well as for residents in the region traveling the Southeast Pennsylvania Region.
Tim Phelps of TMACC informed attendees on micro transit studies as they attempt to bridge the gap between state/government entities efforts and the local needs. This is a unique effort and speaks to the amount of time and effort being invested by all entities. Chester County is also building on the planning from SEPTA, PENNDOT, and other infrastructure spending to build out trail expansion.
Exton station, Downingtown station, Malvern station, and Coatesville station are being upgraded to respond to growth in population and potential Amtrak connections. Full service, ADA accessible upgrades, and parking expansion are all being assessed for funding and programming. These projects are mostly in planning and design, with goals to implement in 2028.
Other notable takeaways:
Electric vehicles will comprise 10% of fleet in Pennsylvania by 2030. Panelists agreed that planning for this expansion is critical in terms of policy and infrastructure.
87% of funding for transportation in the Commonwealth comes from the Gas Tax and is unsustainable.

Secretary Gramian noted that the state loses "10-15 million dollars a year as cars become more fuel efficient, and less gas is used as employees continue to work from home. The gas tax is not a sustainable source of funding as these auto manufacturers move away from certain types of cars and are going all electric vehicles.

EV Charging Stations will be a focus, especially on on interstates, and the state is partnering with energy companies, trade schools to train people how to fix and maintain.
Click for more information on SEPTA AND THE EQUITY IN INFRASTRUCTURE PROJECT (EIP)
Click for more information on SEPTA REGIONAL FUNDING
A full video of Monday's panel discussion is available on our Youtube channel. Click here to watch.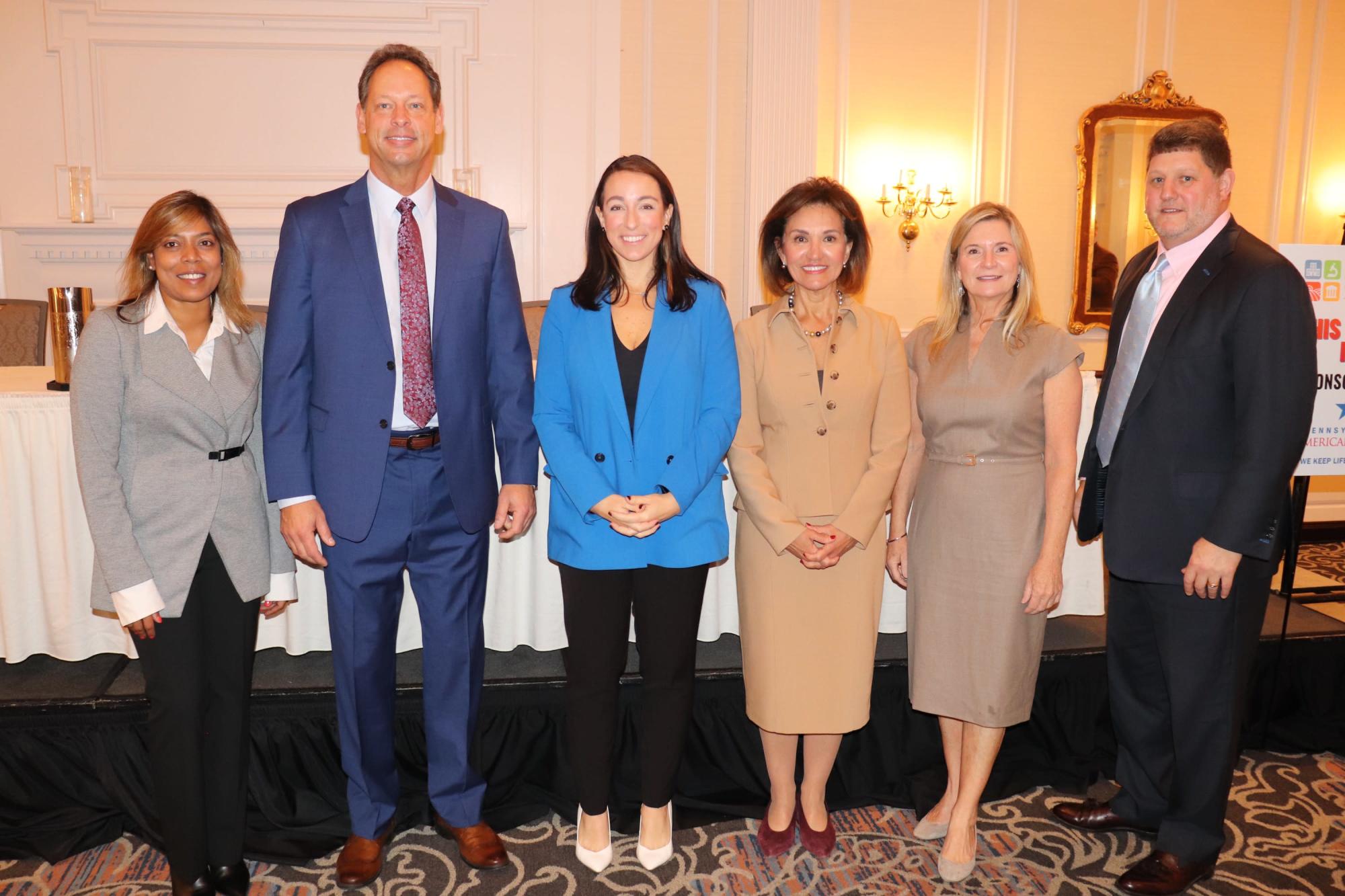 PHOTO (L-R): Juni Alam of Herbert, Rowland & Grubic, Inc., Gary Graham, Regional Chief Engineer of McMahon Associates, Inc., Laura Manion, President of Chester County Chamber of Business and Industry, Yassmin Gramian, Secretary of Pennsylvania Department of Transportation, Pamela McCormick, Director of Legislative and Community Affairs of Southeastern Pennsylvania Transportation Authority, and Timothy Phelps, Executive Director of Transportation Management Association of Chester County. (PHOTO BY MARGUERITE DEGRASSA)