CCCBI Hosts Inaugural Civics Bee in Partnership with the CCIU and U.S. Chamber Foundation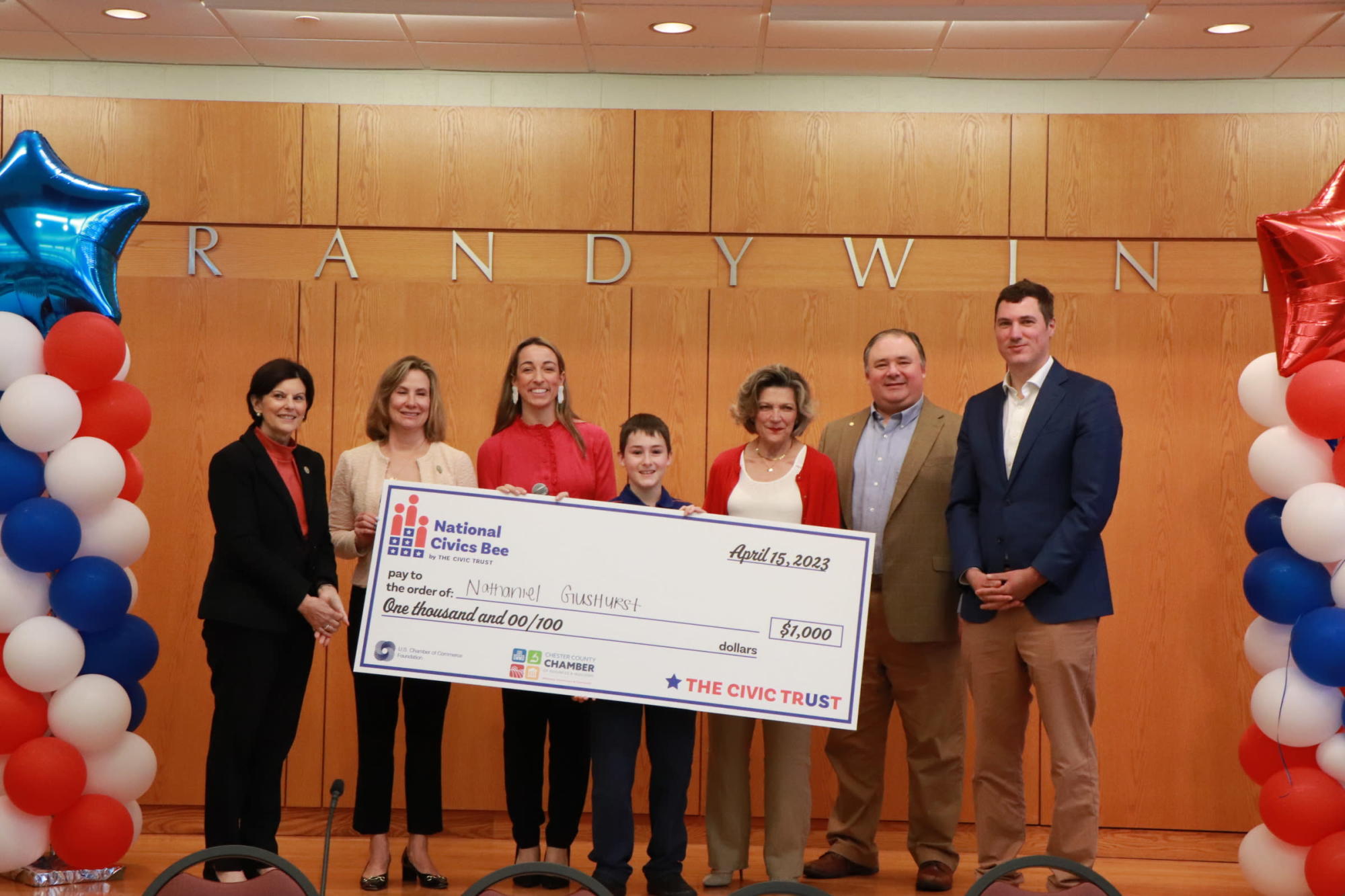 April 19, 2023
FOR IMMEDIATE RELEASE
Contact Abby Wolfe at abby@chescochamber.org
The Chester County Chamber of Business and Industry (CCCBI) hosted the inaugural Chester County Regional Civics Bee this past Saturday, April 15th, as part of the US Chamber of Commerce Foundation's National Civics Bee. The National Civics Bee is an annual competition that encourages young Americans to engage in civics and contribute to their communities. The Chester County Intermediate Unit in Downingtown, PA hosted the in-person portion of the bee.
The Civics Bee featured special guest judges including PA State Representative John Lawrence, Chester County Commissioners Marian Moskowitz, Michelle Kichline and Josh Maxwell, and Marianne Martelli of CCCBI. The event began with an introductory video from Congresswoman Chrissy Houlahan. Congresswoman Houlahan provided a comprehensive overview of the importance of civic education and set the stage for an exciting and engaging competition.
On behalf of the panel of judges, County Commissioners Marian Moskowitz, Josh Maxwell, and Michelle Kichline said, "What a great event, with engaged students, and an important purpose of highlighting the value of civics and the part it can play in contributing to our community, our state and nation. We commend all the students who took part, thank them for their interest and efforts, and congratulate those who will be heading to Harrisburg to represent Chester County in the state Civics Bee."
More than 100 students from across Chester County submitted essays, and 20 students were selected to participate in the local bee. Moderator Kate Campbell asked the participants difficult questions about American history, civics, and politics. After two rounds of twenty questions, and a tie-breaker round, the top five students moved to the final round. The top five finalists each provided the judges an overview of their original essays and were asked follow-up questions about how their problem and solution could be implemented, challenged, or supported. The three highest scoring participants each won cash prizes, with the winner taking home $1,000.
The Chamber is grateful for the support of Benchmark Federal Credit Union, who provided a generous sponsorship that allowed for each participating student to bring home their own smart tablet and stand, free of charge. The Chamber also thanks the Connelly Foundation for their generosity and significant grant for event execution.
"As the only federal credit union to exclusively serve Chester County, we are focused on investing in Chester County's future. It was an honor to have the opportunity to watch these young students compete so admirably on Saturday, and to provide 20 smart tablets to support their ongoing education," said Rebecca Worthington, Vice President of Community Relations at Benchmark Federal Credit Union.
"The Chamber was honored to host this event," said President and CEO Laura Manion. "Civic education is not just about memorizing facts and figures; it's about empowering young kids to become active and engaged citizens who understand the importance of participating in the democratic process and making a positive impact in their communities. I am confident that all of these students will grow and become leaders in our Chester County community."
Winners Nathanial G (1st), Winston C (2nd) and Mary G (3rd) will represent Chester County at the state competition on June 15th at Commonwealth Charter Academy in Harrisburg, PA